Do not bother food safety on Cambodian village market – just enjoy the atmosphere
Food safety regulations are not so serious but this just makes life easier. Easy displaying row pork meat clinched to the post, with a rusty nail.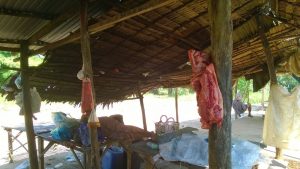 The place is not so busy. They have time to have a nap.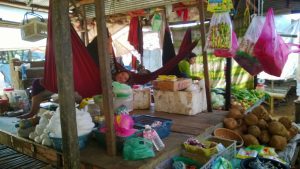 In this video you can see sticky fish paste, fermented fish, dried fish, sun dried snails and mango sold 10 cent/piece and soup like sweets. Pay attention to lizard, chickens etc. running under the stands. And the nice guide Chamrong.