Lucca is not among the famous Tuscan towns. It is shadowed by the nearby Firenze, Pisa and Siena. Of course if you have only a week in Tuscany you will not have time to go there but if you have some extra time it is worth visiting. It is shabbier not so fancy but special with its big wall around. You have to rent a bicycle and go around the wall (mura).
If you go to the area it is worth not sleeping in the town but outside among the Tuscan hills. Fattoria la Torre is an ideal place for this. Near Montecarlo town you find a small estate producing wine and oil and what is more have a good restaurant. Prices are good you can have a double room for 100 Euro even in July. They have a huge pool too.
The food is great based on Tuscan meat mainly. Wine selection is good but try to avoid their own wine which is mediocre.
http://www.fattorialatorre.it/
Having a vermentino before dinner.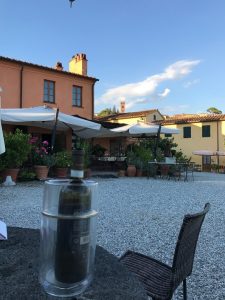 The menu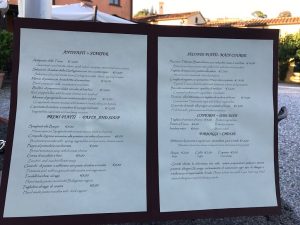 grilled peccorino