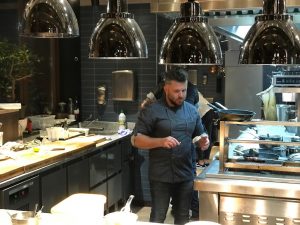 There is a relatively new restaurant in Budapest leaded by a chef Krisztián Huszár who  already showed his talent in the past. This is his first "real" restaurant of his own as far as we know and its a hit in every aspect. Hard to overestimate not only the quality of the dishes but his very individualistic but consistent style. If we say it is a fusion kitchen we misleading the readers. Fusion for most people meaning today someone is not creative enough so mixing Asian taste to European dishes. This is far far away from that. His dishes are not reminiscence of well known old ones. He just uses tastes and styles. Takes the raw material and recreates it in a more edible form without the boundaries of the past centuries but using the experience of the past centuries. You think we are bias or in a too poetic mood but actually we were really amazed. We visited three times so we are not writing based on first experience. We tried different kind of menus and it never let us down.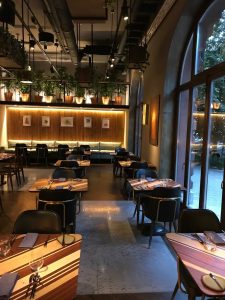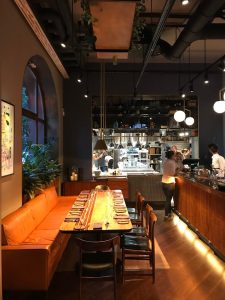 The design of the restaurant itself is very clean with lots of wood and simple colors which makes it warm and friendly but surely very elegant. The large portal windows compensate for not having a terrace. We have to say even though it is good to sit outside and surely it is good from business point of view this kind of kitchen does not need a terrace. Many of the worlds fines cuisines do not have terrace.
The best word to describe the food is ethereal. All the dishes have some kind of lightness not in the meaning of low calories but in an artistic way which is better described with the word ethereal. Even the raw beef or cheek of the pig seem to be light. Like this meat here.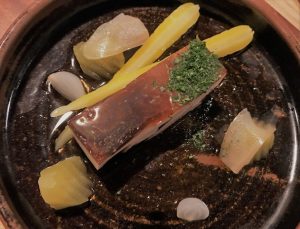 It is meat not a cake
He is using mostly fish and vegetables but luckily you find good meat dishes too. The chef is not a conservative guy and a relentless creator. Maybe the word maniac could be used too. You will not find "classics". He is changing all the time based on what raw material he gets and maybe mood too. After this you might find strange if we say it is not an overcomplicated kitchen. We would even use  the word simple. And this has nothing to do with how the food made or composed. It can be done on the most sophisticated ways and can include several tastes it still seems so simple.Not a lot of fuss just good food.
He servea you even so unorthodox food like carp which could not be imagined in Italian fine dining. And it works for most of the food lovers but not for everybody. For those who like to safe and comfortable at a dinner this kitchen might have too many surprises. You have to ready for adventure here. We really hope he can keep up with this speed of creativeness because it is not so easy. The place deserve a Michelin star and the most enjoyable fine dining in today's Hungary.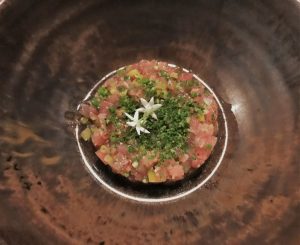 Raw beef…
We have to say some words about wine too. They have a hand picked selection of good Hungarian and some international wines. The knowledge of the sommelier is impressive and the number of wines they sell by the glass is very good too.
Prices are reasonable you can get a 4 course menu for 13.000 Ft/43 Euro which is perfect for this quality. Wine selection is a bit weak in the lower price range. If they have to change something it to include some lower priced good quality wines. We could say it is not their fault. Unlike in Italy in Hungary the restaurant wine prices are generally too high and most of the time missing wines in the lower price range. This somehow should change in Hungary.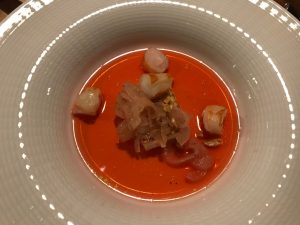 A real ethereal dish. Shrimp.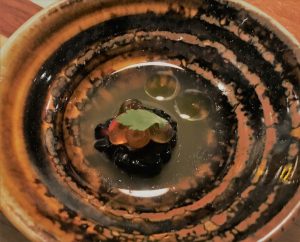 Perfect composition also for your eyes.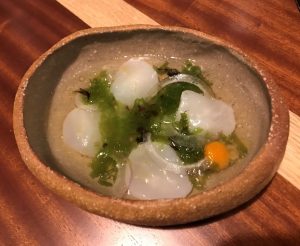 Can not be more simple. Just raw scallops.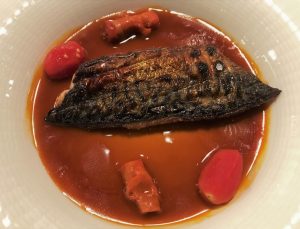 He like strong tasted fish like Mackerel but again not overcomplicated..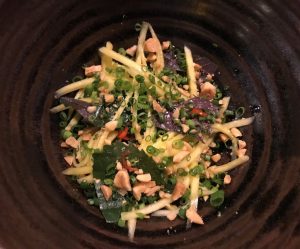 Crazy side dishes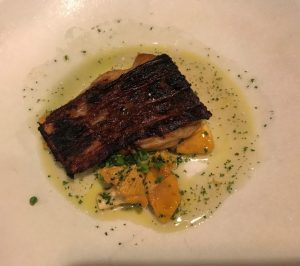 And the fine dining shock: Carp as you never seen before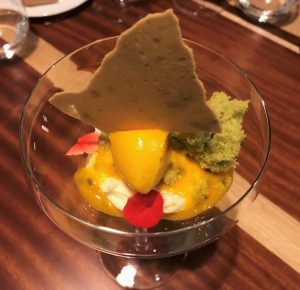 Could be a symbol a simlicity created in a complicated way.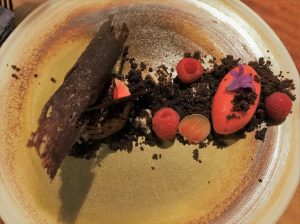 A real ethereal dessert. You hardly eat anything just enjoy the taste.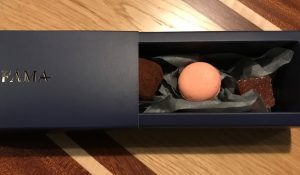 Stylish way to say goodbye